Will be looking at ways to slow water flow
By Jack Swanson, Managing Editor of the Oelwein Daily Register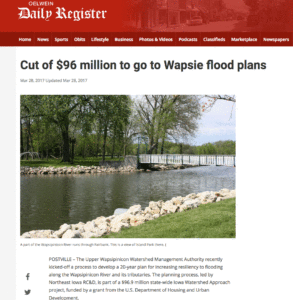 POSTVILLE – The Upper Wapsipinicon Watershed Management Authority recently kicked off a process to develop a 20-year plan for increasing resiliency to flooding along the Wapsipinicon River and its tributaries. The planning process, led by Northeast Iowa RC&D, is part of a $96.9 million state-wide Iowa Watershed Approach project, funded by a grant from the U.S. Department of Housing and Urban Development.
According to RC&D, record setting floods in recent years prompted new approaches to
flood risk reduction. The Iowa Watershed Approach gives communities an opportunity to evaluate past and future flood impacts and invest in strategic solutions at the watershed
level.
"Developing a watershed resiliency plan is a public process—that's why it's so valuable,"
said Ross Evelsizer of Northeast Iowa RC&D. "As we plan, we'll identify which flood reduction practices will give us the best bang for our buck. We'll connect farmers and landowners with cost-share assistance for implementing conservation measures on their land. We'll work with communities to consider how they can incorporate flood-reduction practices into regular infrastructure maintenance, new projects and upgrades."
The planning period runs through July 2018. Public meetings will be held throughout the watershed to give residents a chance to learn more and give input.
"The Upper Wapsi WMA will hold public meetings throughout the watershed, likely starting this summer. We will publicize those as they are scheduled," said Project Coordinator Megan Buckingham. She pointed out that a major part of the planning process will be working with cities to decide which flood reduction projects they want to prioritize, and setting up strategies to implement and fund those activities.
"Ponds, wetlands, rain gardens, bioswales, permeable pavers, a green roof, native plantings, tree and shrub plantings, and rain barrels are some of the types of projects cities could implement to increase their resiliency in the face of flooding," Buckingham pointed out.
Don Shonka is the chair of the Upper Wapsipinicon WMA. "The watershed is the best approach we have for reducing flooding and improving water quality, because it involves so many people to make it work," said Shonka. "It takes in all the options for conservation and resiliency, and it bands people together to solve the problem."
The Upper Wapsipinicon WMA formed in 2015, and is a partnership of more than 30 cities, counties and conservation districts who have committed to working together in their shared watershed to reduce the risk of flooding and increase water quality. To learn more about the Upper Wapsipinicon WMA, or about the resiliency planning process, visit their web site at www.upperwapsi.org.