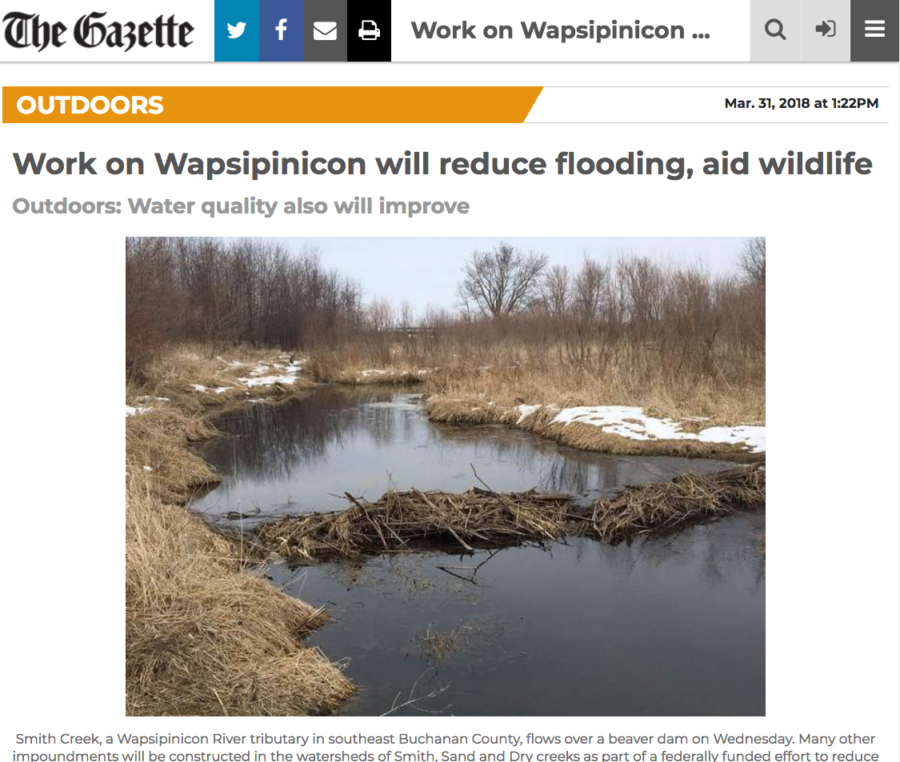 Work on Wapsipinicon will reduce flooding, aid wildlife
Orlan Love, Gazette correspondent
Construction is expected to begin later this year on a project intended to reduce flood impacts and improve water quality in the Wapsipinicon River.
"The main focus is flood control, which will help everybody downstream. But the projects also will improve water quality and create wildlife habitat," said Angie Auel, coordinator of the Upper Wapsipinicon River Watershed Management Authority.
Within a targeted area in southern Buchanan County, more than $2 million is available to help fund construction of conservation practices to mitigate downstream flood damage, Auel said.
Volunteer landowners in three sub-watersheds — Smith, Sand and Dry creeks — may be eligible for 75 percent cost-share assistance for farm ponds, wetlands, saturated buffers, terraces, water and sediment control basins, oxbow restorations and other best management practices, Auel said.
The river and creek bottoms in the target area have many oxbows created when the streams changed course over the years, she said.
Oxbow restorations, in which the depressions are deepened and reconnected with their original streams, have, in addition to their water storage and treatment capacities, great potential as habitat for waterfowl and aquatic animals, including as nurseries for juvenile fish, Auel said.
"It's geared toward flood control with practices that hold back and slowly release excess water. It has the potential to do some really good things for Iowans and the environment," said Dan Cohen, director of the Buchanan County Conservation Department.
The $4.4 million awarded to the Wapsipinicon project is part of a $97 million U.S. Department of Housing and Urban Development grant intended to make Iowa more resilient to flooding and to reduce nutrient pollution.
Auel said about half the $4.4 million will pay for development of a comprehensive watershed plan with the remainder funding best management practices in the targeted area.
When those practices are in place, Iowa Flood Center metrics "will show that we can reduce flooding," said Laura Friest, executive director of Northeast Iowa Resource Conservation and Development, an agency heavily involved in both the initial HUD grant application and the formulation of the Upper Wapsipinicon and other watershed management plans
"When you reduce flooding, you also reduce sediment and nutrient pollution. They go hand in hand," said watershed planner Ross Evelsizer, Friest's colleague at the RC&D.
"We want to quantify the benefits and develop an approach that can be replicated in large watersheds throughout Iowa," said Antonio Arenas, an associate research engineer with the Iowa Flood Center.
Similar HUD-funded projects are underway in eight other watersheds: the Middle Cedar, Upper Iowa and English rivers, as well as Clear Creek and Bee Branch in Eastern Iowa, and the North Raccoon, East Nishnabotna and West Nishnabotna rivers in western Iowa.
Arenas said Iowa's flood-prone status is well illustrated by the 951 county-scale flood-related presidential disaster declarations it has recorded from 1988 to 2016. Among the 50 states, Iowa ranks fourth in that category behind Texas, Missouri and Kentucky, he said.
Among Iowa's 99 counties, Clayton is alone at the top with 17 such declarations in the 29 years covered by the Flood Center's analysis. But Buchanan, Butler, Des Moines and Fayette counties, tied for second with 16 declarations, are close behind, Arenas said.