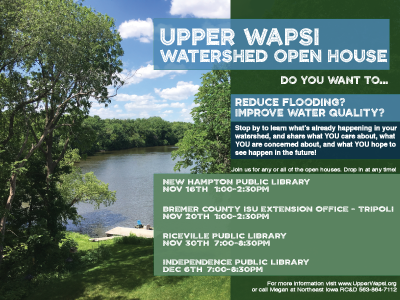 Residents and landowners in the Upper Wapsi Watershed are invited to a series of Public Meeting Open Houses.
Who might want to come? Anyone who is interested in…
Keeping communities and landowners in the Upper Wapsi protected from flooding.
Sustaining clean water.
Learning about urban conservation practices that can beautify communities and help better manage stormwater to reduce flood risk.
Exploring the many ways farmers & landowners are already practicing conservation on rural land–and considering opportunities to increase impactful conservation.
Sharing their own perspective on the watershed–what they value, what they're concerned about, and what they want to do to make the Upper Wapsi more resilient.
The Open Houses are scheduled for:
November 16th – New Hampton Public Library – 1:00-2:30pm
November 20th – Bremer County ISU Extension Office in Tripoli – 1:00-2:30pm
November 30th – Riceville Public Library – 7:00-8:30pm
December 6th – Independence Public Library – 7:00-8:30pm
No RSVP required, but if you have questions or want to let us know you're coming, please contact Megan at Northeast Iowa RC&D: [email protected], 563-864-7112.
We hope to see you at one of the open houses!